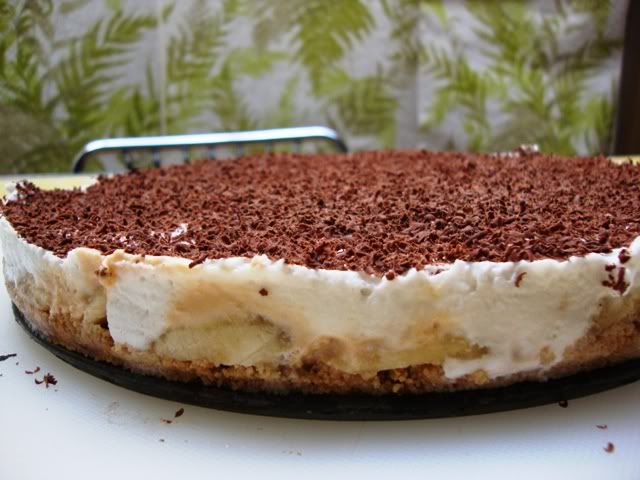 Calm down calm down. Yes this is the most delicious dessert I have ever made (sorry
New York Baked Cheesecake
and
Chocolate Peanut Butter Cake
) and its ridoinkculously easy.
ingredients
1 x packet of digestives
3 tbsp of marg
1 x 330 soy caramel condensed milk
3 medium ripe bananas
1x can of coconut cream (I think its 400mls)
method
1. Put the coconut cream in the fridge until cold.
2. Scoop out as much of the cream clumps and put into a bowl (the fat should congeal at the top of the can). Thin out the coconut fat with some of the cream until it's a thick cream consistency then beat with an electric beater or whisk until it thickens up and put in the fridge (I also added quite a few pinches of sugar).
3. Make the base by grinding the biscuits into a fine crumble in a food processor. Melt the marg and combine with crumbs. Press the crumb mix into the base of a 9 inch spring form pan and put into the fridge whilst you're making the rest of the pie.
4. Construct the tart by laying the bananas top of the biscuit base. Pour the caramel condensed milk on top and smooth (I had to loosen it up with a bit of soy milk). Then pour the thickened coconut cream (it may have set too thick whip a bit of extra coconut cream into it to thin it out) and refrigerate for at least 2 hours for it all to set. This pie does better as each day goes by. Grate some dark chocolate on top. Voila!
notes:
In regards to the coconut cream, the generic coles/safeway brands tend to have waaaay more 'clotted cream' at the top of the cans. Try and drain off any coconut water before you start whipping. It will go into the fridge still quite liquidy but does firm up when you chill and apparently sets (which I was surprised at) when kept longer in the fridge in the pie. My theory about putting coconut cream in a whipped cream canister will more than likely work!